Baby Swimming Lessons
Our unique and innovative baby swimming lessons start from 0 - 18 months, providing an excellent bonding experience for you and your little one.
Baby Swimming Lessons
Suitable from birth,
baby swimming
lessons teach life saving skills, safety and essential swimming skills, with structured, progressive and fun lessons that promotes social, cognitive and physical development and a fantastic bonding experience.
Toddler Swimming
Our toddler swimming lessons are where your little one will further enhance their swimming skills and lead them naturally into independent swimming.
Toddlers Swimming Lessons
Once you have completed the baby programme you can progress onto our amazing
toddler lessons
. If you haven't participated in swimming before with your little one, you will still be able to join us as we structure our classes on ability as well as age.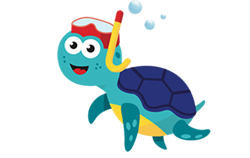 Children's Swimming
Our fun and creative children swimming lessons programme continues when children are ready to swim independently with their instructors.
Swimkidz Baby Swimming Lessons
Swimkidz offers an innovative and unique baby swimming programme that begins during pregnancy and continues past birth. Parents can rest assured and have the confidence that we can help to keep them fit both pre- and post-natal and can continue their child's aquatic journey in a safe, caring and nurturing environment up to their tenth birthday.